Emerging Applications and Technology Landscape
September 11-12, 2023 | ITC Maratha, Mumbai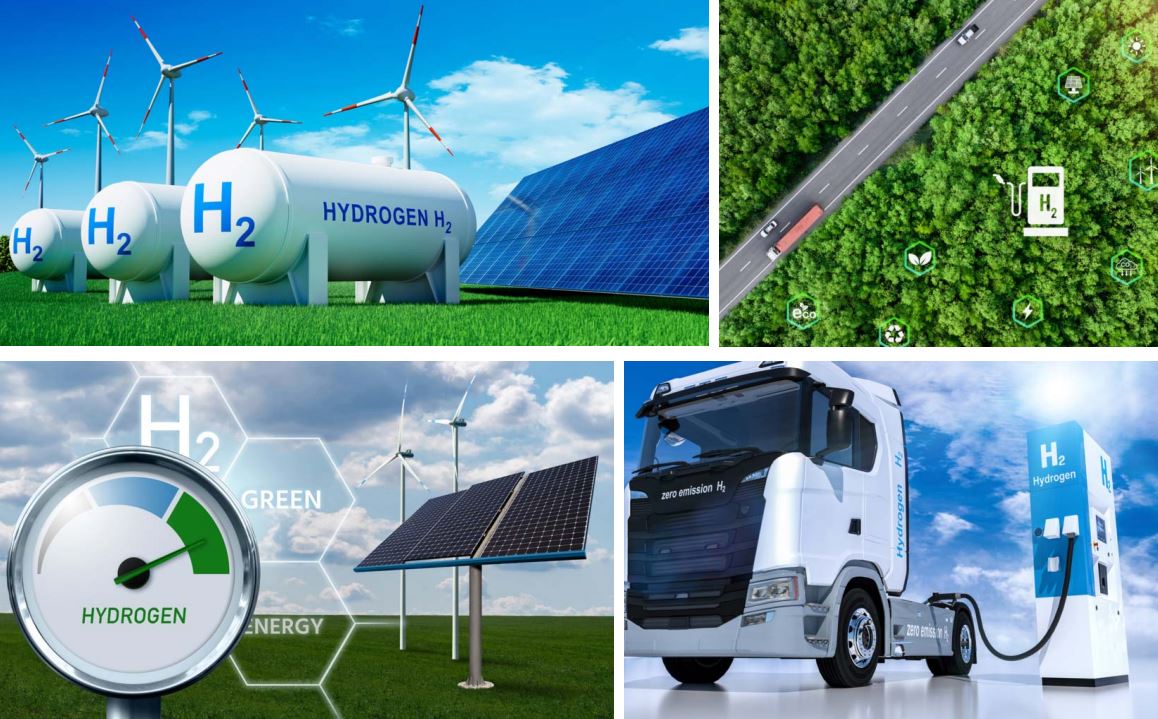 Mission
The National Green Hydrogen Mission was launched in early 2023, with an initial budget outlay of Rs 197,440 million
and a target to scale-up the country's annual green hydrogen production capacities to at least 5 million metric tonnes
per annum by 2030. This comprehensive mission document provides a clear roadmap for green hydrogen development,
and has provided much confidence and visibility to this emerging green hydrogen sector.
The extension on the complete waiver of ISTS charges for green hydrogen production projects till 2030, followed by graded charges thereafter, has given a further boost to the sector.
Many collaborations have been announced among large industries and developers, and companies operating in the oil and gas, steel, chemicals, fertilisers, cement and transport spaces are keenly exploring this space. Green hydrogen hubs are being planned in various states to cater to both the domestic and export markets. Meanwhile, there are plans to incentivise domestic manufacturing of electrolysers, with manufacturers awaiting interventions such as a production-linked incentive scheme.
While the stage is set for massive green hydrogen uptake, there are barriers and uncertainties regarding expected demand, offtake arrangements, standards and cost economics.
This two-day conference aims to highlight the trends, early lessons, market potential, emerging applications and plans of various stakeholders in the green hydrogen space. This event will bring together policymakers, regulators, state agencies, renewable energy developers, large industrial consumers, oil and gas companies, electrolyser manufacturers, technology providers, researchers, consultants, legal firms and investors to share their perspectives
Target Audience
The conference will draw participation from:
Green hydrogen developers
Management consultants
Renewable energy developers
Energy Storage providers
Policy makers and regulators
Equipment manufacturers
Power utilities
Potential Investors
Transmission grid operators
Private Equity firms
EPC Contractors
Financial Institutions
Technology providers
Industry Analysts
Engineering and technical consultants
R&D Organisations, etc.
Agenda
Applications and Outlook
What are the potential end use cases for green hydrogen in India?
Which sectors are expected to witness the highest growth?
How can the major barriers be addressed to speed up green hydrogen
growth? What is the future outlook?
Green Hydrogen Hubs
Which are the major upcoming hubs for green hydrogen production?
Which industries are expected to be the early off-takers for green hydrogen?
What has been the early experience? What is the outlook?
State Session
What are the state's plans for green hydrogen uptake?
Has the state drafted any policies in this regard?
What are the key upcoming green hydrogen projects in the state?
Perspective of Developers
What are your plans in the green hydrogen space?
What are your recent collaborations and technology tie-ups in this space?
What are the key barriers and their likely solutions? What are your
expectations from the government?
Cost Economics of Green Hydrogen
What are the current capex and opex considerations?
How is the cost likely to evolve over the next few years?
What are the key solutions for de-risking project development?
Bioenergy and Green Hydrogen
What role can bioenergy play in the green hydrogen ecosystem?
What are the proven technologies for producing green hydrogen in this case?
What is the outlook for green hydrogen production from bioenergy in India?
Case Study: Best Practices and Learnings
What are the key project parameters?
What are the key challenges in this space?
What are the lessons learnt during implementation?
Contractual Considerations and Outlook
What are the existing regulatory frameworks in the green hydrogen space?
What are the contractual issues that you expect in the near future
regarding clear definitions and offtake arrangements?
What are the solutions to address these?
Uptake in Oil and Gas Sector
What is the potential for green hydrogen integration in this space?
What initiatives have been taken to incorporate green hydrogen in future
strategies? What projects have been announced recently?
What modifications are required in the existing oil and gas infrastructure
to store and transport green hydrogen?
Focus on Green Steel
What is the potential for green steel in India? What are the global
trends?
What are the cost implications for steel industries?
What are the key growth drivers? What are the company's plans in the
green hydrogen space?
Adoption in Transport
What is green hydrogen's potential in decarbonising road mobility,
shipping, and aviation?
What is the market potential for fuel cells in India? What have been the
major developments in this space?
What are the key barriers against uptake?
Perspective of Electrolyser Manufacturers
What are the key electrolyser technologies in use today? What are the
different features and benefits of these technologies?
What are the company's plans in this space?
What are the major roadblocks to scaling up local manufacturing? What
measures are required to incentivise domestic manufacturing of
electrolysers?
Safety, Storage and Standards
What are the key safety considerations in handling hydrogen?
In the present scenario, what is the most cost-effective method of
transporting hydrogen?
Which Indian standards cover hydrogen storage and safety
considerations? What regulatory steps are required in the near future?
Export Potential of Green Hydrogen
What are the key prerequisites to enable a green hydrogen export
economy in India?
What have been the key recent developments in this regard?
How does India compare with other leading global markets in this
regard?
Previous Participants
ABB, ABRPL, ACME, Cleantech,Adani, Ador, AGC, Aker Solutions, Alfanar, Apraava, Aramco, Avaada, Azure Power,
Baker Hughes, BPCL, Bosch, Bureau Veritas, Clarke Energy, Danfoss,Deccan Equipment, Delta Electronics, Eaton,
Edelweiss, Efinity Global, Engie, Essar Power, EverSource Capital, Flowserve, Fortum,FTI Consulting, GAIL,GE OIl
& Gas, GIZ, GMR Energy, Godrej& Boyce, Government of Western Australia, Green Planet Logistics, Green Power
International, GreenH/H2B2, Greenko, GSECL,GSPL, GUVNL, H-Energy, Haryana Power Generation Coperation
Limited, HCC, HEG, Helios, Hero future Energies, HEROSE, HPCL,Hitachi, ABB, Hoerbiger, Honeywell,
Hughes,ICICI Bank, ICRA, Idam Infra, IFC,IIT, India Infrastructure Finance Company, Indo-German Energy Forum,
Ingersoll-Rand, IOCL, IOTL,, IREDA, IRM Energy, JNK, JSW Steel, Jyotech, Kalpataru Power, Karnataka Renewable
Energy Development Limited, Karuturi Limited, KBR, KEC, KfW, IPEX-Bank, Khaitan & Co, KPIT, KPMG, Kraft
POwercon, L&T, Lili Navitas, Linde,Lloyds Register, Macquarie, MAHAGENCO,Marubeni,Mitsubishi, Mitsui, NEDO,
NITI Aayog, Nomura, NREDCAP, NTPC,Ohmium,Okaya Power, ONGC, Panasonic,Hannifin, Petronet, LNG, Phoenix
Contact, Luthra & Luthra, POSOCO,PGCIL, PunjLloyd, PwC, Ramboll,ReGen, Powertech, ReNew Power, Respo
Safety Solutions, Resurgent, RITES, Rockwin, S&P Global, SafeEnergy, Sai Eternal Foundation, SBI, Schneider
Electric, SECI,Sembcorp, SEROS,Shardul Amarchand, Amarchand Managldas, Shell India, Siemens Energy,
Skipper, Statkraft, STEAG, Sterling& Wilson, Sterlite, Swagelok, Tata Power, Cleantech, Tata Projects,
Technip,TERI,Thermax,Think Gas, Torrent Power, Toshiba, JSW, Toyo Engineering, Toyota, Kirloskar, U3S,Vedanta,
Vikram Solar, Waaree Energies, Wartsila, World Bank, Worley, etc.